As a business owner, keeping your commercial premises clean and sanitized is imperative to the success of your enterprise. However, even the most immaculate offices and warehouses can fall prey to pest infestations. Pests are a nuisance, and they can cause physical damage to your property and even spread diseases. Furthermore, a pest infestation can ruin your business's reputation, leading to revenue loss and brand damage. Fortunately, professional commercial pest control services are available that can help you protect your business from the negative consequences of a pest congregation.
Customized Pest Control Plans
Professional commercial pest management companies offer customized plans tailored to your business's unique needs. When you hire pest management services, the providers first inspect your property to determine the extent of the infestation and the pest species present. They then design a pest control plan using the most effective methods to eliminate the problem. These pest control companies consider your business's needs and preferences, ensuring minimal disruption to your operations.
Health and Safety Regulations Compliance
Pests pose a health hazard to your employees and customers. Moreover, dealing with pests exposes you to hazardous chemicals and risks. Professional pest control experts follow industry regulations and safety standards when exterminating pests from your commercial premises. For instance, they use environmentally friendly products that are safe for humans and pets.
Regular Maintenance and Monitoring
Pest control is not a one-time job; it requires ongoing care and management. Commercial pest control services provide regular maintenance and monitoring services to ensure your business is pest-free in the long haul. With regular visits, pest control experts can identify potential infestation hotspots and take measures before the pests can cause harm.
Save Time and Money
Dealing with a pest infestation can be time-consuming and costly. When pests invade your property, you may have to shut down your business temporarily to deal with the problem, leading to lost revenue. Hiring professional pest management experts saves you time and money as they are equipped with the tools, knowledge, and expertise to eliminate pests quickly and efficiently.
Preventative Measures
Finally, professional commercial pest control services offer expert advice and preventive measures to ensure your business is pest-free in the future. These measures may include sealing cracks, proper waste disposal, proper storage of food and supplies, and regular cleaning. Implementing these preventative measures can significantly reduce the likelihood of pests invading your commercial premises.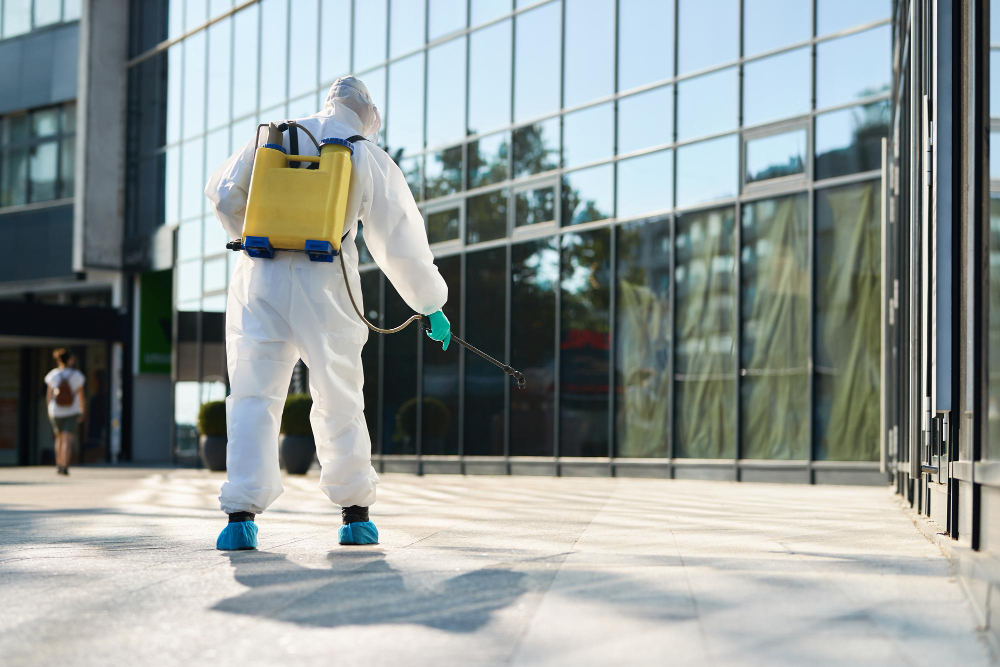 Benefits of Working with a Professional Commercial Pest Control Service
Expert pest management services for commercial properties bring plenty of benefits. Let's explore some of them.
Expertise & Knowledge: Pest control commercial services are knowledgeable and experienced in dealing with different pests, including rodents and insects. They know the most effective methods to get rid of cockroaches, ants, spiders, termites, and mosquitoes, so you don't have to worry about using the wrong products or techniques that can cause more harm than good.
Safety & Health: Professional pest extermination experts use safe and environmentally friendly products and techniques to eliminate pests. It ensures that your employees and customers remain safe from harm caused by hazardous chemicals or ingredients used in the extermination process.
Cost-Effective Solutions: The expert services often offer cost-effective solutions that can save you time and money in the long run. They are better equipped to determine the extent of an infestation, so they can customize treatments most effectively for your unique needs.
Long-Term Prevention: Professional pest eradication services not only eradicate pests from your property; they also offer preventative measures to ensure your commercial premises remain pest-free. These measures may include sealing cracks, proper waste disposal, proper storage of food and supplies, and regular cleaning.
Professionalism & Convenience: Working with expert pest control commercial services is convenient and hassle-free. They are experienced and reliable, so you can rest assured that the job will be done right the first time. Plus, their services are available regularly, so you won't have to worry about dealing with another infestation soon or suffering from their recurrence in your office, shop, or factory.
Vital Things to Know About Commercial Pest Control Services
You need to remember some key points when opting for experts to control pests on commercial premises.
Working with a reputable, experienced company is important as this ensures quality services and results.
Different types of insects require different extermination methods; make sure you are familiar with the correct type of treatment for your infestation. But, basic knowledge of the various techniques and products is handy. You can also leave it to the experts for the best results.
Ask for a detailed report regarding the infestation and their extermination methods from the company.
Commercial pest control services should include pre and post-inspection services to ensure complete eradication of pests. The pre-inspection services include a detailed assessment of the affected area to determine the extent of the infestation. The post-inspection services should consist of recommendations on preventative measures.
Make sure that all safety protocols are followed during the service, such as using protective equipment while handling.
The treatments employed to eradicate the insects should tailor your business and they resolve your issues quickly and cost-effectively.
Ensure the company uses quality, safe products to avoid health hazards and environmental concerns.
Understand the cost of commercial pest management solutions and ask for any discounts or promotions the company may offer. Ask them about their payment policies.
Ask for a warranty or guarantee of the services provided by the commercial pest control company you are considering. It ensures that they stand behind their work.
Preventing and controlling pest infestations should be a priority for every business owner. Pests threaten your property, reputation, and the health of your employees and customers. Protect your business from pest infestation by partnering with a reputable commercial pest control company. Hiring professional commercial pest control services guarantees expert, efficient, and safe pest control services that protect your business from pests, now and in the future.
If you're looking for premier commercial pest control services in Melbourne, Al-Maani Pest Control is your ideal destination. We are experts in dealing with the most severe pest infestations in shops, factories, offices, gyms, hospitals, etc. Our trained experts combine the right pesticides and techniques to deal with devastating critters.