When it comes to keeping your business, factory, shop, workplace, gym, hotel, restaurant, or other commercial property pest-free, the best and most effective solution is to enlist professional commercial pest control services. These services use advanced techniques and powerful products tailored specifically to suit your needs and prevent infestation. Here are eleven compelling reasons why you should opt for commercial pest control services:
Professional Knowledge:

Commercial pest control experts have the experience, qualifications, and training to handle all kinds of pests safely and effectively. They understand various pests' biology, behavior, and habits and can identify the best treatment for each situation.

Proven Results

: Professionals can provide proven results that can be assessed, monitored, and treated effectively. Their methods are designed to effectively eliminate the problem and prevent future infestations.

Cost-Effective:

Expert

service providers of

pest control for commercial

properties provide cost-effective solutions that will save you money in the long run. By using targeted treatments, they can help you quickly get rid of your pest problem without causing any damage to your property.

Effective and Safe:

Commercial pest management services use effective and safe products designed to target the exact species of pests in question. Their treatments are less toxic than conventional methods and won't leave any nasty residue or odors behind.

Quick Response Time

:

Commercial pest control

companies have the experience and expertise to assess a situation quickly and come up with an action plan that can be implemented immediately. It means you don't have to wait long, even during emergencies, for your pest problem to be resolved and can avail of same-day service upon booking.

Customized Solutions:

Every business is different, so commercial pest control services tailor their treatments to your needs. They can quickly identify your problem's source and devise a solution to suit your requirements.

Comprehensive Solutions:

Professionals of

pest control for commercial

properties provide exhaustive solutions that are designed to eliminate the entire infestation, not just the visible pest activity. It ensures that even hidden sources of infestations will be addressed and prevented in the future.

Guaranteed Results:

Commercial pest management solutions provide guaranteed results you can assess and monitor over time. Rest assured that your property is safe, and you will get effective and guaranteed results.

Keep Your Property Protected, Safe, and Healthy:

Professional

commercial pest control

services help to keep your property safe from damage caused by pests and also help maintain a healthy environment in your building. It is especially important for businesses that are food-related or hospitality establishments.

Use of odorless and eco-friendly pest management products: Using odorless and eco-friendly pest management products helps protect your commercial property from potential damage while protecting the environment. Many pest management companies use pesticides called pyrethrins and pyrethroids, including Permethrin. These are natural and organic pesticides found in varieties of chrysanthemums.
Integrated pest management: Integrated Pest Management (IPM) is an effective and eco-friendly approach to managing pests, including cockroaches, spiders, rodents, ants, bed bugs, etc. An Integrated Pest Management plan assimilates various control measures and strategies. These prevent them from causing significant issues, with reduced risk to a person's health and the environment. The method is a highly effective and comprehensive solution for residential and commercial property owners. The professionals provide integrated services designed to ensure pests are kept out of your commercial property while reducing their population and preventing future infestations.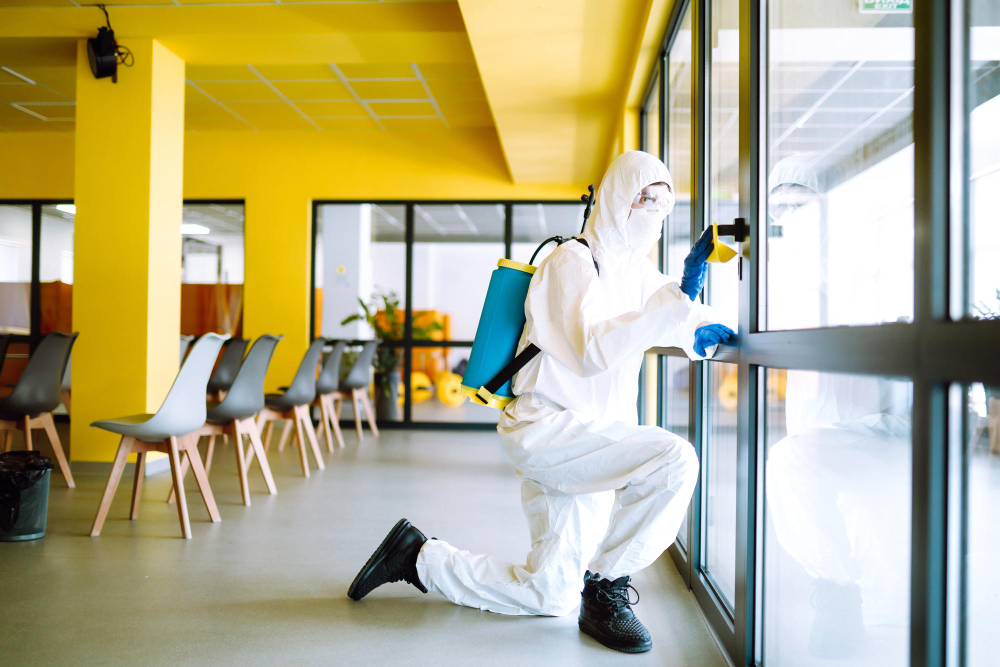 Where do Commercial Pest Control Services Find Applications?
Commercial Pest Control services can be used in virtually any environment and are especially important for businesses that handle food, hospitality, retail, or healthcare. These professionals understand the unique requirements of each industry and provide solutions tailored to your specific needs.
 Hospitality Industry:  Pests can pose an extreme threat to the hospitality industry and affect customer experience. Professional pest control services provide comprehensive solutions that quickly identify infestations, eliminate them and take preventative measures to ensure they don't return in the future.
Food Service Industry: Pests in the food service industry can contaminate food, spread diseases, and create an unpleasant environment that could damage a business's reputation. Service providers of pest control for commercial properties take the necessary steps to ensure all food-related premises are kept safe, clean, and free from pests.
Retail Industry: Pests in retail outlets and stores can cause damage to merchandise as well as affect customer experience. Commercial pest control services can quickly identify and eliminate the source of infestations while also taking measures to ensure they don't return.
Healthcare Industry: Pests in healthcare environments can spread deadly diseases and create a hazardous environment that puts patients at risk. Commercial pest control services provide comprehensive solutions to protect healthcare facilities from pests, keeping staff and patients safe. Whether it is a hospital, nursing home, or doctor's chamber, you can hire the experts and eradicate the congregation or influx.
Education Industry: Pests in educational environments can cause serious health problems and damage schools, colleges, and training institutions. The expert services provide tailored solutions that quickly identify and eliminate the source of infestations while preventing future ones.
By taking the help of professional pest control solutions for commercial properties, you can ensure that no infestation will go unnoticed and take appropriate measures to eliminate it quickly and safely. In addition, you can also rest assured that you will get effective and guaranteed results.
Why Hire Al-Maani Pest Control Services?
Al-Maani is one of the leading pest control companies in Melbourne. We provide integrated pest management services tailored to your individual needs. Our certified professionals are highly trained and experienced in identifying, controlling and preventing pests from entering your property.
We use only eco-friendly organic and chemical products that are safe for humans, pets and the environment. Our methods are fast, efficient and long-lasting. We also provide ongoing services to prevent any future infestations from occurring.
So if you're looking for a trustworthy service provider of residential and commercial pest control in Melbourne at competitive prices, then contact us at Al-Maani today! You can rest assured that your property will be free from pests swiftly and without any fuss.